Christina Angelina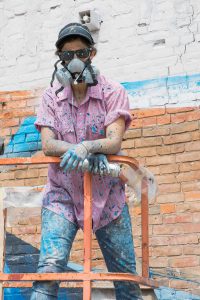 Christina Angelina also known as "Starfighter," is a Venice based visual artist, photographer and gallerist. Angelina is internationally renowned for her public art and large-scale figurative murals and was a featured artist in the Google Art Project's Street Art Collection launched in 2016.[1] In 2015 the Huffington Post cited the collaboration between Angelina and Fin DAC in São Paulo entitled "Splash" as one of the "Most Influential Acts Of Street Art Around The World" and in 2016 Angelina was highlighted as among the most innovative artists to watch in Sleek Magazine.[2][3] Angelina finished "Whitney Peak," a mural commissioned by the Whitney Peak Hotel in downtown Reno, Nevada.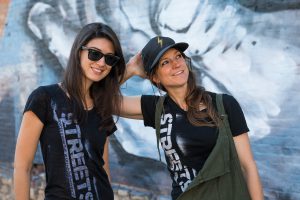 Growing up in the Venice neighborhood of Los Angeles, Angelina was surrounded by performers on the boardwalk, caricaturists creating sketches and muralists painting on walls in alleyways.[4] Inspired by the creativity of the
community, she began painting when she was a teenager, selling prints to friends and local art collectors.[4] Angelina received a Bachelor's of Fine Arts in Art from UCLA in addition to studying animation at NYU's Tisch School of the Artsand photography at the Art Center College of Design.[4] After graduating college, Angelina worked in a variety of media including drawing, painting and graphic design before homing in on street art and adopting the public persona "Starfighter".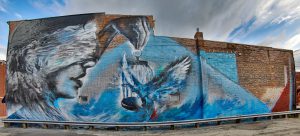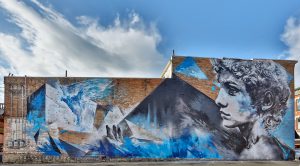 Starfighter – Voices Productions from Digital Dubuque on Vimeo.