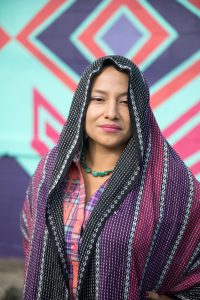 Gera Lozano is a conceptual artist based out of Brooklyn, New York. Using an interdisciplinary process, Lozano's practice intentionally beautifies and brings to light both sacred patterns, and the patterns woven into our social fabric. Both her studio and public art work carry the aura of ancient & modern cultures' dreams; transforming the ethnography and current zeitgeist into abstract organic geometric designs. GERALUZ, as she is as also known in the street art world, projects designs of living cultures that awaken the energetic fields of optical perception.
Lozano's studio artwork has been funded by the Creative Work Fund, the Zellerbach Foundation, the NEA; and is part of the Smithsonian American Art Archives. GERA's public art work can be seen throughout the Americas, in collaboration with agencies such as; The Washington State Arts Commission, The New York City Department of Transportation, The New York City Economic Corporation, The Trust for Public Land, The Municipality of Asuncion Paraguay, City of El Paso Museum Cultural Affairs Department, Sun Metro Rapid Transit System, The Rockefeller Group. GERA's art has been featured in Interior Design, Art Practical, The Manhattan Times, NJ monthly Magazine, Street Art New York City, CBS, NJTV NEWS, Univision.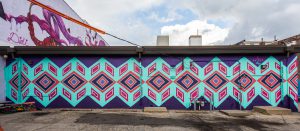 PUBLIC ART STATEMENTAs a Public Artist, I am passionate about the beautification of public spaces, community empowerment & art as a healing tool. Public Art brings forth the magic and wonder of its natural environment. I believe the word "public" in Public Art is the people, the history, and natural phenomena of the place. My process includes an archaeological approach to research, and documenting the distinctive characteristics of each site. Always honoring the original spirit of the project in my artwork, by transforming the history & energy of the place into pieces that exists organically and harmoniously in its surroundings.